Why copy Kurt Cobain and not Elvis Presley?
Elvis Presley died over weight, with nearly 40 pounds of impacted fecal matter in his colon, and hopelessly addicted to prescription pain killers while having a shite on the toilet. I never heard of any teenagers doing a copycat version of that death, did you? The romanticised typical rockstars death that Kurt Cobain suffered has been the main focal point of the conspiracy surrounding him and his relationship to Courtney Love and the media blame copycat suicides on Kurt Cobain. Kurt died of a self inflicted gunshot wound to the head, while completely banged up full of heroin and left behind a verbose suicide note, the contents of which have been poured over by fans for 22 years.
This suicide has been cited as the main reason Nirvana fans across the world gave up their lives as a grim tribute or as a pseudo-suggested action to deal with the sorrow of his departure. But was it to blame, in fact was it not the incessant media coverage about the particular details of the death that were to blame? The leak of the suicide note and the mystery of how exactly he died was bandied about in the media for years, so how could impressionable youth not be exposed to such things? The note which included such caustic verse as the immortal "Its better to burn out than to fade away"
Suicide Note Extract:

I have it good, very good, and I'm grateful, but since the age of seven, I've become hateful towards all humans in general. Only because it seems so easy for people to get along that have empathy. Only because I love and feel sorry for people too much I guess.

Thank you all from the pit of my burning, nauseous stomach for your letters and concern during the past years. I'm too much of an erratic, moody baby! I don't have the passion anymore, and so remember, it's better to burn out than to fade away.
Soaked in Bleach
In the last few months a couple of documentaries have come out about Kurt Cobain and the life he tried to keep so secret, while the rest of his soul was on show for the world. Secret tapes, interviews with close friends and relatives and candid insights into the off-stage playful nature of Cobain. Montage of Heck, which premiered at the 2015 Sundance Film Festival and is available on Netflix now, is a collection of interviews and behind the scenes footage of Nirvana, focusing mainly on Cobain and Courtney Love. It tells the story of a young Nirvana and how they came to deal with the unprecidented fame they achieved.
It tells of young Cobains attitude problems, his difficulties in school, his dysfunctional familyand a weird story about a molestation he took part in when he was a young teenager! Yeah, really! No, seriously, you should watch that bit! But on the outside it paints a picture of a troubled man, with emotional and psychological issues and a drug dependency. It even has clips of Kurt on home video 'goofing' on heroin around his child. It generally seems like a PR campaign for the accepted version of events. It also suspiciously finished on a fade to black just before his suicide, which isn't detailed at all in the film, just the pointed prelude. Also, there are allusions and examples of suicide being hereditary in the Cobain family with anecdotes of Cobains uncles apparantly commiting suicide.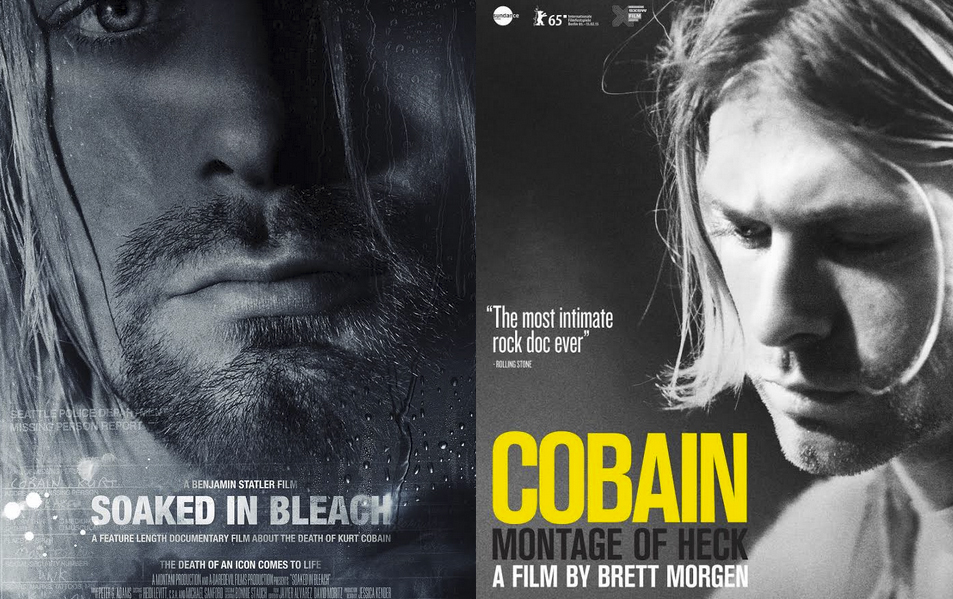 Soaked in Bleach however, seems like the antithesis of this documentary. A hard hitting documentary about the inconsistancies of the accepted version of events and using high profile witnesses, including Tom Grant, the private investigator Courtney Love hired to find a missing Cobain just days before his death. This doc continues from where Montage of Heck leaves off and spins a very different yarn. It states that Cobain couldnt have shot himself with the amount of heroin that was in his system, and claims that Courtney Love was the orchestrator of Kurts death by hiring a hillbilly assassin and using her ex-boyfriend/babysitter to plant evidence around the house while she sat safely away from recrimination in a rehab facility in Los Angeles.
Grant is not just blowing hot air here, he has oodles of taped phone conversations of Love and their nearest and dearest, telling of their plans for world domination and concocting plans to fool the media into believing in their cause; even using Cobain's unannounced death to garner sympathy from a soon to be devastated public. Scary stuff when you hear it, believe me. But if these two stories are the polar opposite of what people heard in the 1994 deluge of media information, it was no wonder that people were shocked and upset enough to try and partake in this music idols death. The scene was set too perfectly.
Nirvanas influence and Kurt Cobains stage persona
Kurt Cobain was portrayed by the media as a junkie, a drug addict, a disaffected anarchaic youth who didnt care about the MTV pop machine. They painted him as a depressive pill popper and eventually a used up heroin addict with suicide as his only option. The lyrics of his songs didnt help much either, and a depressive and suicidal media persona surround Cobain and was also subplanted on Nirvanas fans.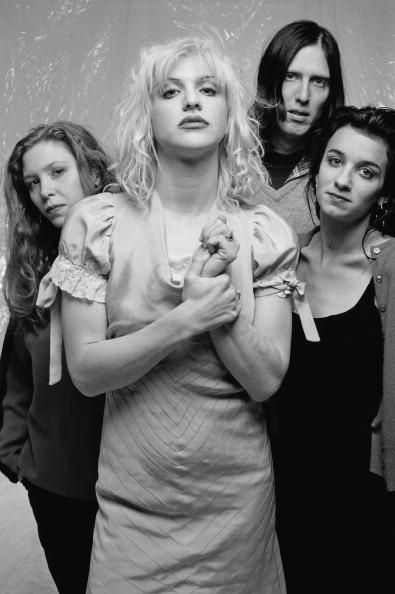 After his death, noone was surprised to see sensationalised news reports of long haired drug addled youth killing themselves in apparant solidarity with Cobain and his 'choice' to leave, and Cobain was also the newest entry in to the already famous 27 club behind the likes of Jim Morrison, Jimi Hendrix, Janis Joplin and most recently Amy Winehouse who were all too synonymous with excess, troubled lives and untimely death. Intrestingly enough, Hole bassist and Courtney Love friend Kristin Pfaff was also a member of the 27 club and died very shortly after Cobain in a very similar fashion. I suppose the rumours of her and Cobain having an affair were nothing to do with that?
Were these new stories warranted or was it just journalists jumping on the already frighteingly high suicide rates of the time? Did you know that 'death by suicide' is the second in the leaderboard of deaths of 27 year olds? It gets pipped at the post by car accidents, so it was no wonder that the exact demographic that Cobains fans were in, and the fact that they had Nirvana memorabilia, and the stats of people dying by suicide in their age range made for a confluence of really juicy and eye opening stat filled news reports!
Nirvana fans across the country are killing themselves in droves after lead singer Kurt Cobain shot himself. 27 year olds across the country are dying by suicide after hearing of Cobains death with suicide being the second most common way for someone to die of that age! Also they had a Nirvana t-shirt and Nevermind on tape in a drawer, so it was definitely Cobains fault! Oh and everyone is heroin because of him too. Not because they are unhappy and heroin is cheaper and easier to get than ever. COBAIN!!
The Media at fault for suicide prevention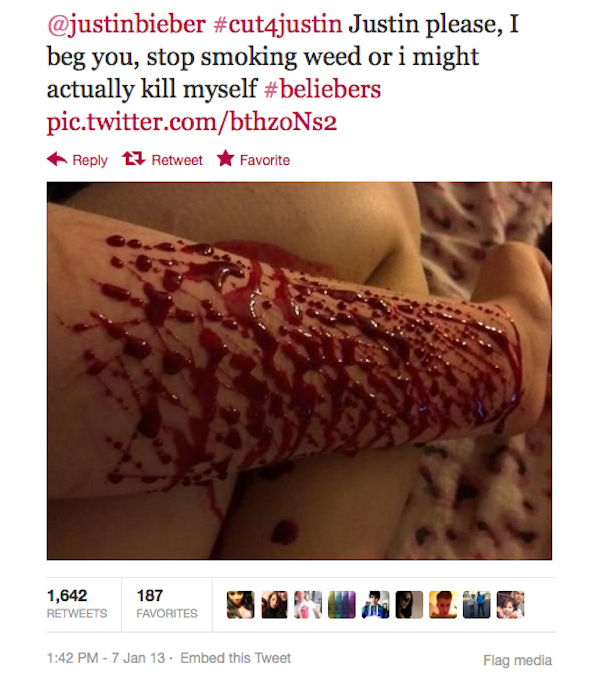 But what about the media that helped with this issue? Cobain biographer Charles Cross claims in his book "Here We Are Now: The Lasting Impact of Kurt Cobain,that the reports of suicide in the Seattle area immediately following Cobains death actually decreased. Dr. David A Jobes, leading professor of psychology at The Catholic University of America looked at the data following Cobains death and feared that there would be a spike in copycat deaths. He has been working in suicidology since graduate school across various domains—public health, clinical research, epidemiology, and theory-building as well as working with veterans and other military personnel in suicide prevention. His prediction was that, as with Marilyn Monroes death in 1962 there would be a spike in suicides, and this is before the massive news media machine that was around in 1994. But there was actually a drop off in suicides in the Seattle area, in the US too and a study done in Australia showed a lower number in the 30 days following Cobains death than in the previous 3 years at that time.
Was it because of the media hype and constant coverage that people started asking the hard questions? Approaching loved ones who they felt were having a hard time and questioning their mental health? This phenomenon of copycat suicides has been seen time and again, and the media warning of this happening and putting out helpline notices and flashing suicide prevention hotlines on the news should have surely helped? What causes this anticipation of mass suicide tributes? Is it a psychological virus? When something like this happens in a community its called The Werther Effect. It usually spreads through a school or community and is called a suicide cluster and can be a direct effect of social learning. So the laws have been changed since Cobains death and his death in particular was one of the catalysts for this change. The particular details of the method of death should not be allowed and the reporting of a 'suspected suicide' before a coroners findings should also not be allowed. So the media have been spanked for their flamboyant and sensationalist reporting somewhat but it didn't stop the reports of suicide because of Cobain and that is what has stuck in the collective unconscious. He is etherally blamed for the deaths of these folk and maybe this is the reason noone will pay heed to the seemingly fantastic story that his death was not actually a suicide. If it was a murder it couldn't have come in a more morally protected package!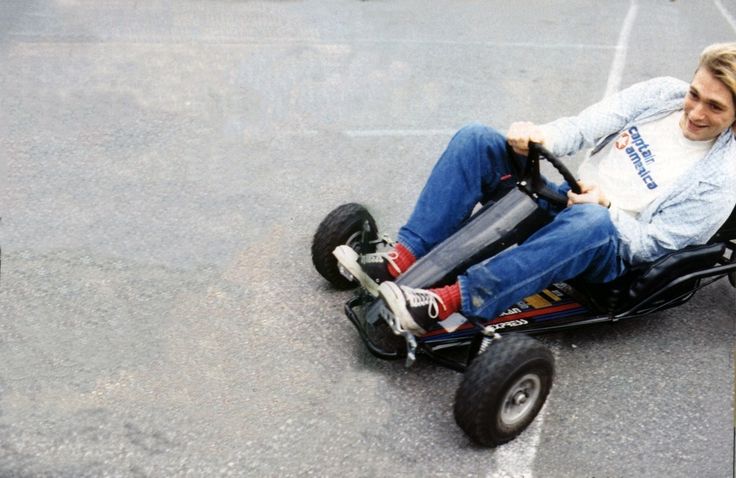 Its all a bit of a mess when it comes to reporting and dealing with suicide in public or in your own community. If you feel there is someone you can reach out to, then do it! The worst they will do is tell you to fuck off and mind your own business. But you may be giving them an excuse to talk to someone. If you want to contact someone about suicide prevention the numbers will be below. Watch these documentaries and make up your own mind about what happened to Kurt Cobain, but don't pass it off as a simple drug-addict self involved rockstar suicide. That is the exact manufactured storyline that lets us believe that Kurt Cobain was a depressed, depressive, negative, lonely, disaffected, sombre, morose and dour musician who laboured on thoughts of death. I don't think so!
Irish suicide prevention : 01 661 7211
UK Suicide Prevention: 116 123
US Suicide Prevention: 1-800-273-TALK