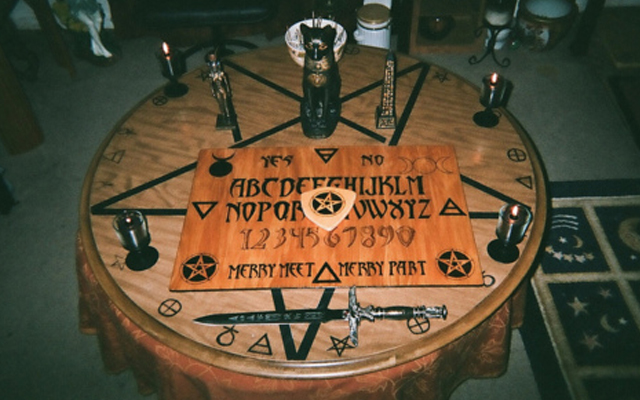 The Ouija Board
On this Podcast we cast a suspenseful eye over the paranormal parlor game that became a supernatural phenomenon. The mysteriously named and demonically imbued party piece that is the Ouija Board. Covered in letters, numbers, yes, no and goodbye it seems to remotely spell out messages via the round or heart shaped planchette. Building in mystique, the horrific and dangerous aura of the Ouija board is now one of the most universally recognizable icons of the dark arts known as Black Magic.
The real and the fake: Ouija experiences
Through it's placement in modern media, such as it's key role in horror classic The Exorcist, the Ouija board has become an item laden with other worldly attributes. It's place in the cultural consciousness now equally feared and maligned today. Growing in prominence and use over the years since it's creation the tales of incredible and abnormal occurrences attributed to the board continue to grow everyday, and come from every corner of the world. It's rumored to have the powers to contact the dead, raise angels and demons and pass messages from another realm. A instrument of mediumship that provides a practical tool of communication for séances and spiritual gatherings. We'll discuss the Ouija board experiences and the wider beliefs in psychic forces.
Automatic writing or Paranormal conduit
From it's innocuous inception we look at the history and genesis of this controversial toy. It's rise in prominence throughout the Victorian era and the flourish of paranormal interest of the early 20th century. We'll cover the science of automatic writing and subconscious actions of the ideomotor effect that have sought to provide a tangible explanation for the elusive functions of the board. We aim to unlock the secrets of the Ouija board and the truth behind the silent, supernatural slab of wood.
With demonic possession, malevolent spirits, cryptic messages, future predictions, shokcing stories, mass hysteria, group hallucinations, mediums, shaman, wiccans, the Fox sisters, the Kenard toy company, paranormal patents, Mary Todd Lincoln, Sylvia Plath and W.B. Yeats
Featuring Conspiracy Guys Gordo, Paul and Eamonn